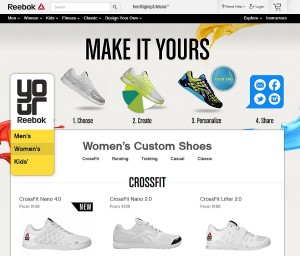 Reebok is another great brand known for their flair in creating stylish rubber shoes. The company was conceptualized and founded in 1895 by Joseph William Foster. It was then named J.W Foster and Sons. Later in 1960, it was renamed Reebok and the rest is history. The company is now a subsidiary of Adidas and is still making great pairs of shoes.
One of their great new ventures is YourReebok, a way where customers are given the power to customize some of their favorite Reebok shoes. Some of the models available for customization are RealFlex, Zig editions, EasyTone, Freestyle, Pump and Ventilator. These are available for men, women and also kids.
The prices of customized Reebok kicks are pretty varied and can range from $50 – $200. Because some of the designs options like adding premium leather will require an additional charge ($5 – $10), prices would really depend on how you style the shoe. What sets YourReebok apart from the other companies who offer the same customization services is their incorporation of sharing finished designs in social media. The website displays a large number of custom designed pairs called Get Inspired shoes by other users or designers so you can jumpstart your ideas and designs. Additionally, you can also save, showcase and share your very own creations or "Like" designs by other users.
YourReebok Custom Shoe Design Tool
Their Design System features state of the art technology, making it easy to use even for first timers. There are countless of customization options available, from the main parts like the vamp, collar and midsoles to accents like laces and logos. You can also opt to add lux material to certain parts of the shoe for an additional charge. Some of the fabrics available include Premium Nubuck, Soft Leather and High Gloss Leather. If you want to make it more personalized, you can add more details too, from personalized text to the pink cancer awareness ribbon.
It is very easy to view and rotate the shoe as you go through the design process. You can rotate it to any view that you like and very conveniently click on the parts of the shoe that you want to customize. Prices will be updated as you go along and you can choose to share your design afterwards through Facebook, Twitter or Email.
All the orders are shipped via Fedex and they do not offer expedited shipping or international orders (outside of US). The custom designed shoes are expected to arrive within 8 weeks after ordering. And because YourReebok shoes are custom made for you, returns and exchanges are not accepted.
Overall, both the website and the brand's YourReebok service fairs highly in this review. It offers great products that are easily customizable according to users' preferences. Also, the website incorporated an additional flair by the use of social media sharing – a great addition and marketing effort for any company.
Reebok UNLOCKED loyalty program
If you're a diehard Reebok fan, then you'll love the brand's new loyalty program. With Reebok UNLOCKED, you can earn points for every online or in-store purchase and interaction. The more points you earn, the higher your level in the program, which comes with exclusive perks. Plus, staying logged in will help you earn more points. So what are you waiting for? Sign up today and start earning rewards!
Reebok's loyalty program is designed to reward its most dedicated customers. There are four levels in the program, and customers can move up to higher levels by earning points through purchases and interactions. The higher the level, the more benefits and perks the customer is eligible for. Some of the benefits of being a member of Reebok's loyalty program include exclusive access to sales and events, early access to new products, and VIP customer service. In addition, members are also able to earn points more quickly, making it easier to reach the higher levels of the program. For customers who are dedicated to their fitness goals and who enjoy using Reebok products, the loyalty program is an excellent way to get rewarded for their loyalty.
There are a total of four levels:
Level 1 – Member: 0 – 999 points
Level 2 – Insider: 1,000 – 2,999 points
Level 3 – Premier: 3,000 – 5,999 points
Level 4 – Full Access: 6000+ points
How to earn Reebok UNLOCKED points
With Reebok UNLOCKED you can earn points through purchases and interactions. You can then use these points to get discounts on future purchases. Make sure you are logged into your Reebok UNLOCKED account when shopping on Reebok.com. When shopping in-store, identify yourself as a member by sharing your email address at checkout or pulling up your Member ID or Unlocked Pass by logging into your Reebok UNLOCKED account on Reebok.com through your mobile device. Points can be accumulated with no limit, and Unlocked members can reach the highest level of rewards, Level 4: Full Access. Reebok UNLOCKED Points are valid for 12 months, giving members plenty of time to redeem them for exclusive rewards. So whether you're a fitness enthusiast or just looking for some new gear, make sure to sign up for Reebok UNLOCKED and start earning those valuable points today.
Alternatives to YourReebok Custom Shoes:
Adidas, Converse, K-Swiss, Vans and Nike